When thinking about purchasing insurance, there are several factors that one should take into consideration. As a Singaporean homeowner, do you know which insurance policies are compulsory? InsureGuru is going to walk you through the differences between home insurance and fire insurance.
HDB Home Insurance
Singapore's Housing Development Board (HDB) offers HDB loans to Singapore property buyers looking to purchase flats. The board also requires homeowners who bought an apartment using HDB loans to have HDB fire insurance. However, HDB fire insurance is only mandatory as long as the apartment owner has an outstanding HDB loan.
The mandatory HBD fire insurance requirement means the category of flat owners who bought through HDB loans don't have to choose. As for other homeowners who did not take a HDB loan, they still have to choose between fire insurance and home insurance.
What Does Each Type of Cover Entail?
Fire insurance is supposed to ensure that you are protected in case a fire breaks out and damages your home. This kind of insurance is supposed to cover any costs of damages arising from a fire-related incident such as fixtures and structural repair costs.
Fire insurance such as the HBD fire insurance does not reimburse renovations, furniture, and personal belongings loss arising due to fire.
Home insurance on the other and is characterised by a more rounded approach. It is designed to protect the contents of your home. For example, a home insurance cover will ensure that you are reimbursed in case you lose any valuable personal items.
You will be reimbursed if electronic devices such as tablets, laptops, TVs and other things if stolen from the house. Home insurance also makes sure that you are reimbursed in case such valuable items are destroyed by an accidental fire in the house.
A home insurance cover goes beyond just making sure your valuable household items are protected against loss or damage in case of the insured risk. It will also cover any costs that may arise in case a guest is accidentally injured while visiting your home. It is should also reimburse any legal costs that may arise if a guest files any charges against you.
A home insurance cover will also cover you in case you lose or cause damage to anything that belongs to a tenant. You can benefit from such if your home insurance cover has a well-thought-out home contents policy.
A home insurance cover may also feature a family accidental death policy. This means your family members will be protected in case of an accidental injury or in case of an accidental death while at home.
Home Insurance & Fire Insurance Costs
HDB fire insurance is fairly affordable which is a good thing considering that it is compulsory. Its monthly premiums differ depending on the property type you are buying. Etiqa Insurance Pte Ltd is the current insurer for HDB insurance in Singapore. Its insurance cover runs for five years and can be renewed after that. Below is a chart showing the insurance premiums for 2014 to 2019.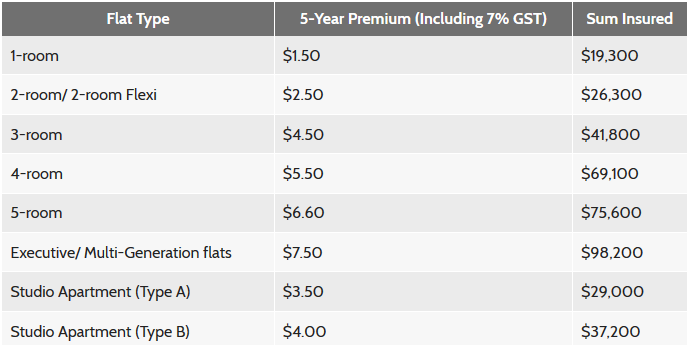 HDB fire insurance premiums- Source www.hdb.gov.sg
Home insurance is also inexpensive. For example, Singapore-based Etiqa ePROTECT offers a comprehensive home insurance cover at affordable premiums. The premiums can be as low as $60.50 each year. You can even take advantage of a discounted offer that is as low as $51.44 annually for a lump sum five-year plan.